Online Tarot Reading › Card The Fool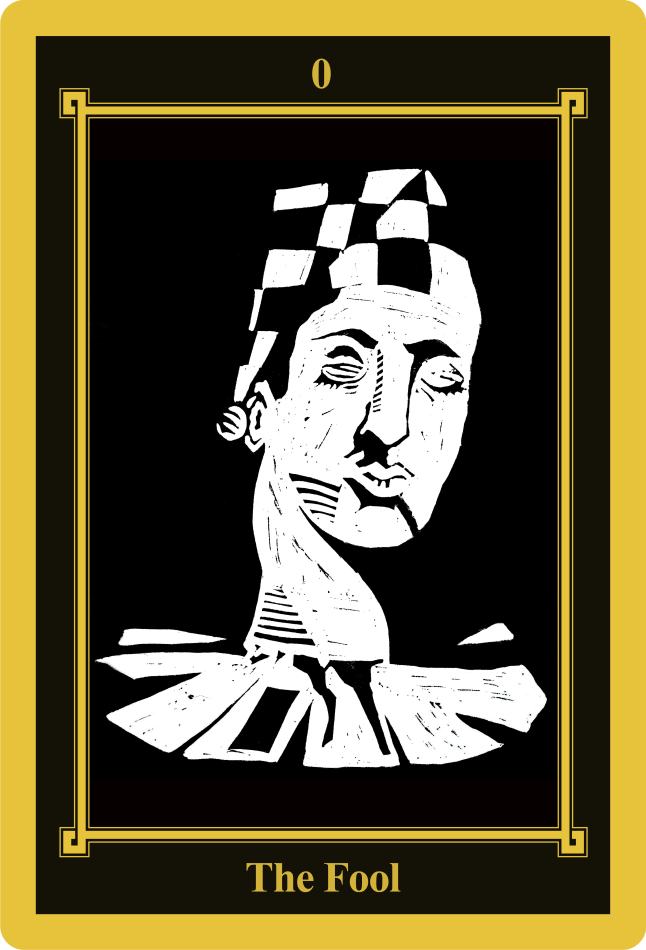 Interpretation of the card
Card The Fool
Below is a sample of the tarot card interpretation. It is an accompanying text for The Fool card. In the first part there is a description of the meaning of this card, below you find the life inspiration.
Interpretation of the card
Change and Creative Force
Tarot card 'Fool' is the first card of Major Arcana. It is a card of strength and happiness connecting self-esteem and big creative force. It reveals that the old ways and paths are outdated and it reveals a great desire for change. It speaks about freedom, spontaneity and getting rid of commitments. The danger that encompasses fool's impulses is vital for anychanges. It provides faith in life, which a certain danger is a part of. It can also signify new beginnings or a new start with an open ending.
Taking inappropriate risks is also foolish
The most important thing is to take that first step and not to be afraid. To have the courage to be on your own side and look at the things around you with a bit of perspective. Just as the fools on courtyards could behave in a non-conventional manner and with self-confidence, so can you take a risk because you can handle even the negative consequences of your decisions, the card suggest. You feel a huge inner strength in you and you can jump right into new things even though your brain and those around you might consider it a pure craziness.
If you want to try something new, now is the time to really do so because unless you really try it, you'll never know if the outcome is positive or negative. Saying that, please remember that there is a bright side to a negative outcome also – it gives you an important life experience. So get a bit wild and do something crazy. I'm sure you'll be reminiscing about it for a long time.
Be careful though! Doing crazy things doesn't mean to gamble. Taking risks has its boundaries as well. It is not about boasting and showing off, it is about being proud and proving something to yourself. The card 'The Fool' only speaks to you and to your own decision-making.
Inspiration for the interpretation of the card "The Fool"
Own experience
For illustration of the card "The Fool", I chose one of my own experiences.
Pole dancing
Crazy idea from the get go. I have to say that I have several ways in my life how to blow off some steam when I feel too restricted by responsibilities in my life. I have divided them into guided and completely unguided.
Actually, there is only one unguided. Whenever I felt too much tension and I needed to unwind, I just got drunk. I didn't want to end up doing something shameful so I always chose one of my friends to take care of me. Whenever he commanded, I listened and went to bed. In the morning, I could not remember what happened but I was sure that I did not cause any damage.
Painting, doing sports, fishing and dancing are among the guided ways to blow off some steam. Everything started when one of my colleagues at a marketing agency, where I worked as director, was getting married and the celebration was taking place in a strip club with professional strippers. Back then, I was working 24/7 and had no time to relax. As I was watching the women dance, I asked whether there is a chance to try it. And so my dance began. I got so much into it that I stopped paying attention to the world around me. I was woken up from this flow by a cheer from the others. I started to like it and sometimes, where the opportunity presented itself, I danced again.
The high point came during my stay in Prague where I worked as a manager. When I had a bit of free time, I would wander through the street until, one day, I noticed a nightclub. It was an afternoon and I felt a need to relax a bit and remembered the feeling I had during pole dancing. I entered the club, ordered a shot and asked whether I could pole dance there. The waiter was surprised but understanding and turned on the music. I drank my shot, danced and left repeating this crazy idea every week. Everything ended one afternoon after 2 months. I entered the club as usual excited to dance but, to my surprise, it was completely full. I'm not an exhibitionist but I didn't want to spoil the fun so I danced for the last time. I have not tried pole dancing ever since , I have my painting and sports, but it was a wonderful and crazy experience.
Around a year ago, when I was walking home from a celebration, I encountered a dance club. I could not resist, to tell you the truth, and danced surrounded by young people like I used to before. No alcohol in my blood, no pole near me but with an amazing feeling inside. When I was leaving in the morning, I heard the youth's salute:
"Come again, sometime. It was fun."
And that was that.
All rights are reserved. No part of this website may be reproduced, stored in a retrieval system or transmitted in any form or by any means, electronic, mechanical, photocopying, recording or otherwise, without prior permission. Free Online Tarot Reading made by Jiří Berta, czech version Výklad karet, Sitemap, 2023 &copy LB